Reservations -
Adults ONLY: 21 years of age or older
- 2 Night Minimum Stay -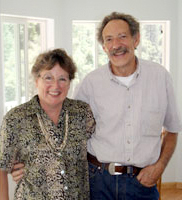 Your hosts, Ron and Liz Skelton, owners and 35 year residents of El Portal with knowledge and expertise in area hiking, wildlife viewing, fishing, rock climbing, photography, art, and local lore who will be happy to help you plan your activities in Yosemite. Enjoy the personal service, friendly, and warm atmosphere in beautiful surroundings.
---
To make a
RESERVATION
, please click
HERE
---
IMPORTANT: Reservation Details
It is EXTREMEMLY IMPORTANT that you print the maps for directions as satelite navigavtion systems, map quest, GPS and cell phones do not work well in the river canyon. PLEASE CLICK HERE TO SEE MAPS & DIRECTIONS.
TAX: *Rates quoted do not include required county tax.
TWO NIGHT MINIMUM STAY
NO SMOKING: *Strict no smoking policy on the premises, including the use of E-cigarettes-no 'vaping' / smoking…and the use of marijuana in any form' . This includes all decks, outside areas, and the parking area. There is no convenient smoking area nearby---NON-SMOKERS ONLY - NO E-CIGARETTE OR MARIJUANA USE IN ANY FORM.
ADULTS ONLY: 21 years or older.
PET POLICY: No guests' pets, as we have 2 resident cats, which are not allowed in guests' rooms.
REFRIGERATOR AND KITCHEN USE: County health regulations do not allow guests to use our refrigerator or kitchen cooking facilities. (This includes sealed drinks and bottles.) Please bring your own ice chest. We do not have refrigerators in guests' rooms, except in "The Sunflower" suite.
DEPOSIT REQUIREMENT: The entire stay's rent, plus required county tax, is required as a deposit by VISAS or MasterCard at the time of booking. This secures currency exchange rates and guarantees present room rates.
CANCELLATION POLICY: If you must cancel your reservations, we require that you notify us at least 30 days prior to your arrival date by email/in writing for a refund of your reservation charge, minus 10%, and a $50 service fee. If cancellations are made less than 30 days prior to your arrival date a refund will not be given. "No shows" will have been charged the full amount for the days reserved as the rooms will be held , having been pre-paid. No refunds or credit will be issued for "no shows".
GROUP OR MULTIPLE (More than one room) ROOM RESERVATIONS: The entire amount will be charged when the reservation is made, and no refunds will be given for cancellations of multiple or group reservations, at any time, for any reason. Travel insurance is suggested.
Cancellations will be given 30 days after the original refund request is made.
We recommend travel insurance.
CHANGING YOUR RESERVATION: If you must change and reschedule your reservation dates, we require that you notify us at least 30 days prior to your original arrival date by email/in writing and we will change your reservation dates for a $20 service fee. If you change and reschedule your reservation dates less than 30 days prior to your original arrival date, you will be charged for the dates we are unable to rent, plus a $20 service fee. Reservations are not transferable to another person/persons.
Rescheduling must be made for dates within the current calendar year, and rescheduling can be made only once.